All it took was a mention of the word "Renaissance" and "new book" to race on over to my favourite online book seller to pre-order without any hesitation. I was so there in my excitement. Why? Because this band put out so many memorable Progressive Rock albums but not much has been said via the written word except in a few volumes like Jim McCarty's autobiography, 'Nobody Told Me!' which David mentions below in our interview. Then there is Mike Barnes's impressive and epic book, 'A New Day Yesterday: UK Progressive Rock & The 1970's.' Mike has devoted a whole chapter to Renaissance and Barclay James Harvest. The former gets five pages of historical interest. Then there is Will Romano's 'Mountains Come Out Of the Sky: The Illustrated History of Prog Rock,' a table top edition where this band is snuggled in with others in the Prog Folk section. They are much more than Prog Folk but that's another argument put aside for another day. It's also worth mentioning the UK 'Prog' magazine has carried the occasional article but for the life of me I haven't come across them in my zine hoard yet.
If any Rock music book deserves a title release of their own it is certainly this band which has given us fans so much pleasure over the the decades. It's one of the reasons I also run a fan page on Facebook devoted to Renaissance's heady 70's when so much joy in listening to this band's new albums was, in my opinion, something of a zeitgeist for them. The perfect 'classical Progressive Rock' storm for want of a feeling capturing those days. Like Yes and so many others, here was a band greater than just one person, bringing together so many talented musicians and releasing one good album after another. Not like Yes, Renaissance never truly got their fair share of media attention as the so called "Giants of Progressive Rock" did. On the upside – Renaissance has never suffered the constant bickering and inter-fan warfare of serial lineup changes such as 100 percent turnover in original personnel like Yes has and still does to this day 😉 But Renaissance was there, right in the eye of the storm in the early 70's with their own blending of Rock with Classical and Folk with an amazing vocalist like Annie Haslam adding more colours and sounds to this wonderful subgenre of music. If the music defined in the late 60's helped build the counter culture on its own foundation, then Renaissance added the colourful tapestries to it with so many memorable songs and album titles.
It's what David Detmer brings to the table of Prog with his new book titled 'Renaissance On Track,' one of Sonicbond Publishing's ongoing tiles of Progressive rock. He is also a Professor of Philosophy at Purdue University Northwest and author of six previous books. other interests include guitar, and his published essays on The Beatles and Pink Floyd have been translated into German, Portuguese, and Korean. I reached out to David for this interview from his home in Munster, Indiana, USA to discuss "Every Album, Every Song" he's covered in his new book on Renaissance, one of Progressive rock's truly underrated English Progressive Rock bands. Also check out other On Track titles that spotlight bands such as Pink Floyd and Yes and Gentle Giant and and Jethro Tull and Hawkwind… and so many others, so Renaissance are in good company here.
I'm not going to give away any spoilers on what's inside these pages of David's book. I can honestly say there are a few chapters that warmed my heart no end given the utmost love and respect I have for these albums. Something that is conveyed by David and his own personal journeys and discoveries with this band. Thank you, David, for taking my questions and answering them. Renaissance On Track is available at most online bookstores or maybe at your local to be ordered in.
"This arrived today. After a skim through this book it is definitely a must-have for any Renaissance fan" Graham Donaldson, 10 February 2021
AN INTERVIEW WITH AUTHOR DAVID DETMER
Where and when did the idea come to you that you were going to write a book about Renaissance?
I enjoy reading books about musicians, but many of them disappoint me by not devoting enough attention to the music itself. Instead, the focus is on biography, and such musical analysis as there is tends to be reserved for the artist's most famous pieces. Album "deep tracks" tend to be glossed over lightly, if not completely ignored. So I was glad to discover Sonicbond's "On Track" series, in which each volume is devoted to "every song on every album" by the artist in question. After reading two or three books in this series a couple of years ago, I got the idea that it might be fun to write one myself. So I made a pitch to Stephen Lambe, the series editor, and he agreed to let me take a crack at doing a volume on Renaissance.
So why this band and their albums, David?
I discovered Renaissance as a 16-year-old way back in 1974. I had gone one day to my local record store, in Topeka, Kansas (USA). I only had enough money to buy one album, and had gone to the store with the intent to buy a specific album that had recently come out (I no longer recall what that record was). Shortly after I entered the store I was captivated by the sound of the music, utterly new to me, that was emanating from the store's speakers. In response to my inquiry, I was informed by the clerk that I was hearing "Running Hard," the opening track from Renaissance's Turn of the Cards album, currently playing on the store's stereo. As I resumed my browsing, I continued to listen intently, and very shortly abandoned my original plan and resolved, instead, to buy Turn of the Cards. Finding it impossible to tear myself away from this music, I loitered in the store until I had heard the entire album, at which point I purchased my own copy, and them immediately took it home and listened to it again. I've been hooked ever since, and eventually acquired the band's other albums, with the albums in the Prologue through Novella sequence, in particular, remaining ever since as mainstays in my listening rotation. My enthusiasm for the band was further cemented by the experience of seeing them in concert in Boston (where I was by then a college student) in the late 1970s.
So I chose to write on Renaissance for a number of interconnected reasons. First, I knew that I would enjoy the experience of listening to their catalogue carefully and analytically in the process of writing the book. Secondly, whereas literally thousands of books have been written on the Beatles, or on Bob Dylan, and at least a few books have been written on each of the most famous progressive rock bands (Yes, King Crimson, Pink Floyd, Genesis, Jethro Tull, and Emerson, Lake & Palmer), no book before mine had ever been devoted to Renaissance. So it seemed to me that this "gap in the literature," so to speak, meant that in writing a book on Renaissance I might have a chance to do a real service, and make a meaningful contribution, more so than if I were to write on a more heavily chronicled band. Finally, I thought that, at least in a very modest and limited way, I might be able through this book to make something of a case for the merits of what I consider to be a vastly underrated band.
Did you approach SonicBond Publishing with the idea of writing this book on Renaissance, or had you written a manuscript already?
I approached SonicBond first, before I started to work on the book.
You also give thanks to John Wachala in the Acknowledgement section at the front of your book. It must have given you great comfort to find someone who knew their onions about this band and could articulate so well it to you?
John is an outstanding musician, a flutist who performs as the leader of the Calumet Chamber Musicians in Indiana, in addition to his work as a private music teacher. He has an excellent ear, which is informed by his comprehensive and unerring knowledge of music theory. My book is not overly technical, but it does contain some music theory details that I think help to explain how the band is able to achieve the extraordinary effects that they get, and John really helped me a lot with those parts of the book.
Bands like Yes, Genesis, Rush and Pink Floyd have had plenty written about them, and even by members of those bands in their own autobiographical releases. How easy, or hard for that matter was it for you to source a good amount of information you could use for your book given, to be fair, Renaissance haven't exactly been that forthcoming in terms of what others bands have shared about themselves?
You're certainly right that there is far more material available on the bands you mention than there is on Renaissance. But there are now several books on progressive rock, as well as magazines, journals, and websites devoted to the genre, and many of these sources contain information on Renaissance—especially the information that I was mainly seeking, namely, comments from individual band members (or lyricist Betty Thatcher) about the genesis of some of the songs, or about the reasons behind some of the musical or lyrical decisions that the band has made. Jim McCarty's autobiography, Nobody Told Me!, also proved a valuable resource in connection with the band's origins, first two albums, and dissolution—a dissolution that set the stage for the emergence of the more famous Annie Haslam-fronted incarnation of Renaissance.
Did you do the research from the comfort of your chair or was it a matter of hard graft traveling or contacting numerous people to source the information and then checking and verifying it? Was it a case of not so much what you knew but who you knew in the end to mine a lot of this wonderful and insightful information?
Had I been writing a comprehensive, detailed, biographical history of the band, I definitely would have sought out interviews with the players and other principals. However, since my focus was squarely on the music—"every album, every song"—my main research tools were my ears and my guitar (the latter being used to identify specific chord progressions and other musical details). With regard to verification, I tried to stick to information that either was a matter of public record, or else provided by band members themselves in interviews (especially when that information is conformed in multiple interviews, and by more than one band member). When the memories of band members have differed, as in the case of the very different recollections of Annie Haslam and Jon Camp with respect to the recording of "She Is Love" from A Song for All Seasons, I have simply noted the disagreement, without attempting to resolve it. On the very few occasions when I have offered speculation, such as in suggesting possible reasons for what I take to be the band's artistic decline in the 1980s, I have made it clear this is merely (hopefully reasonable) conjecture, rather than fact.
With this kind of project was there any times where you felt you had bitten off more than you could chew?
No. I enjoyed every aspect of the work, from start to finish. Listening to, analyzing, and thinking about Renaissance—I find all of that to be a most pleasurable experience.
I thought I knew a lot about Renaissance and retained most of it, but I found when I got to my favourite section of you covering, for me, some of my own favourite albums such as Ashes Are Burning, Scheherazade and Other Stories, and Novella, to name but a few, much to my surprise and even greater delight you had uncovered some very interesting facts on the making of these albums. Taking that all into consideration, where there any epiphanies you yourself had on coming across new Renaissance revelations throughout your research? Anything that was outstanding for you?
The two that come readily to mind are Betty Thatcher's explanation of the meaning of the lyrics to "Black Flame" (short version: inspired by the Vietnam War, it is about the kind of poisonous, hateful attitudes that lead to racism and violence) and Annie Haslam's account of the real-life event that led to "Trip to the Fair" (short version: she and Roy Wood really did once take a trip to the fair, only to find that "nobody was there").
Some bands are both rewarded and cursed by the popularity of their lead vocalist. Like Yes and others, the full sum of any album's achievement especially in Progressive Rock are the contribution of everyone on it, but yet for the most part the accolades and conversations are around the singer of the band. I've noticed this on a number of fan pages I run on Facebook, even with such a wonderfully talented group of instrumentalists like Renaissance. With your research do you feel the kudos is evenly spread within this band to the wider audience, not to take anything away from Annie of course? Is that something you consciously wanted to address at all in your book?
I can't say that I consciously made an effort to apportion the credit, and I certainly didn't downplay the importance of Annie Haslam's extraordinary vocals to the appeal of the Renaissance sound. To the contrary, I went into some detail in trying to explain what is so unique and special about her singing. But I hope I have moved the needle a bit along the lines you mention by also repeatedly highlighting the contributions of the other Renaissance players. Although I had always liked and respected them, the process of writing the book, which involved intense, focused, analytical listening, has helped me to appreciate them even more. They excel in multiple ways. For one thing, they successfully, and seemingly effortlessly, navigate the many twists and turns—changes in key, tempo, time signature, dynamics, and so forth—to be found in the proggy epics of the band's best period, many of which contain substantial instrumental sections. Moreover, they almost always play something inventive and non-formulaic. For example, Terry Sullivan goes way beyond just "keeping the beat." He's an all-purpose percussionist, who adds tasteful glockenspiel and celeste parts to enhance several Renaissance tracks, and adds such inspired touches as shaking a bagful of coins to establish the rhythm in "Midas Man," a song about greed. And Jon Camp doesn't content himself with merely providing a solid bottom to the Renaissance soundscape.
Instead, he frequently plays high on the neck of his instrument in the manner of a lead guitarist, adding perhaps the strongest rock element in the music of Renaissance. He's also an excellent harmony singer, and I think he does an outstanding job with the lead vocal on "Kiev." As the principal purveyor of melody in Renaissance (aside from Annie Haslam), the late John Tout's outstanding keyboard work (especially on piano) and arranging skills are essential to the Renaissance sound. And while Michael Dunford was probably the least accomplished instrumentalist in the classic Renaissance lineup, his acoustic guitar skills were sufficient to persuade his bandmates that (at least for the most part) they didn't need an electric guitarist. And of course, he is the composer of most of their greatest pieces. As a final point, I think it is a great merit of the Renaissance instrumentalists that they always put serving the song ahead of showing off their considerable instrumental chops, and this, I suspect, is a factor, along with being overshadowed by Annie Haslam's spectacular voice, in their being underrated.
You go into so much detail; even as far as how long Annie held onto a final syllable while singing on one of the tracks from Scheherazade and Other Stories. Given such a deep dive into the minutiae of their work, do you still get the same joy and interest in the Renaissance albums as you did before you began researching and writing it? In other words, have you spoilt it for yourself breaking everything down over the many listens you must have put yourself through to gleam all this info, geese and golden eggs in one basket, so-to-speak?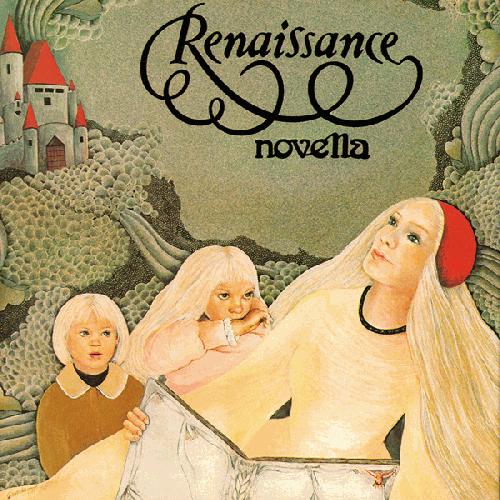 No, it's just the opposite for me. The project helped me to notice lots of details in the band's music that I hadn't fully focused on previously, and this has enhanced my enjoyment.
Everyone has their favourite Renaissance period with the albums covering that time. I've even devoted a Facebook group page devoted to 10 years of their history because that's what I care and feel passionate about most, if I'm being honest. Did it at any time become harder motivating you to covering the later years as say their most memorable period in the 70's for instance?
Motivation wasn't a problem, but I admit that the level of fun that I was having in writing the book took a dip when I was working on the Azure d'Or through Time-Line sequence, simply because I don't like those albums nearly as much as the albums that had preceded them, and I found it necessary to make a few negative remarks. However, I do like some of the material on those albums, and I think their 2014 album, Symphony of Light, is a strong return to form.
If you have a favourite Renaissance album, what is it and why does it stand out for you?
My favorite studio album is Turn of the Cards, but I wouldn't say that it "stands out" from Scheherazade, or Novella, or Ashes Are Burning, as I think those are almost as good. I find all of those albums to be excellent, from start to finish. My favorite Renaissance pieces tend to be the proggy epics, and Turn of the Cards has three of the best of them: "Running Hard," "Things I Don't Understand," and "Mother Russia." It also has "Black Flame" and "Cold is Being," which I regard as two of the best of the band's shorter songs. The album also has a consistent tone throughout, which I would describe as "dark." That tone is the one that suits them best, I think, and it gives the album a coherence that makes it seem like a unified work, rather than a mere collection of songs. I never tire of hearing it.
But if I were only allowed to have one Renaissance album, I might choose Live at Carnegie Hall, which features a great set list, stunning performances, and double the content of any one of their studio albums. I am also one who loves the album's most controversial track, the elongated version of "Ashes Are Burning," which even Annie Haslam criticizes in the liner notes to the deluxe 2020 reissue. I offer a defense of the track in the book.

In your research did you come across information you decided you couldn't or wouldn't use? Not so much dirt or even skeletons in the closet but you felt didn't fit in where you wanted to take your book so left it out? And is there anything (isn't hindsight a wonderful thing?) after 'Renaissance: every album, every song' had been published you wish you could have included?
Here I think the only thing worth mentioning is just the general point that the publisher likes to keep the books in this series relatively short, and so my contract stipulated a word limit that resulted in the book having the modest length that it does (144 pages). My first draft was quite a bit longer. In revising the manuscript so as to bring it down to the contractual word limit, the main cuts were to the sections on live albums and related recordings (such as Annie Haslam's solo albums, and the albums by Illusion, the band consisting of four-fifths of the original Renaissance lineup). In an ideal world, I wish I would have been able to include more of that material. But on the other hand, that would have meant a longer, and thus more expensive, book, which might have hurt sales—so I'm not complaining.
I'm really glad you devoted so many pages to the first lineups with Keith Relf and Jim McCarty and their fine contributions. Sometimes you feel some think they were the warm up band for the main event. Did you at all get a sense their work was just as important as the so called "classic albums|" received, and deserve much better attention and praise from the music community?
I find those albums to be quite uneven, so I would not go so far as to put them on the same level as the Haslam-fronted band, given the level of sustained excellence that the latter achieved in the Prologue through A Song for All Seasons sequence. But on the other hand, the Relf/McCarty band was a pioneer, one of the first practitioners of the "progressive rock" genre, and it did produce some outstanding material, such as "Kings and Queens" from the first album, and "Golden Thread" from the second. So I agree that it is an underappreciated band, ripe for re-discovery. It is, indeed, unfortunate that the Relf/McCarty incarnation of Renaissance is rarely judged on its own terms, but rather in terms of the large shadows cast by the band which gave rise to it, and the one to which it gave rise (The Yardbirds and the Haslam-fronted Renaissance, respectively).
Speaking of which…. Most articles you come across on this band there is this preface from the writers that Renaissance never got their fair share of accolades as other Prog groups like Yes, Genesis, Jethro Tull and others received in the 70's. Even today you'd be hard pressed for anyone in mainstream of music lovers to know who Renaissance was. Is it fair to blame their record labels or even the music press for not giving as much attention to Renaissance as well?
While I certainly agree with the premise that the band is neither as well-known or as highly regarded as it should be or deserves to be, I don't know why this is the case. I will say that, from my experience in talking to people about my book project, the problem is not that people dislike Renaissance, but rather that they have neither heard them nor heard of them. When I have introduced the music of Renaissance to people who were not familiar with it, they have, almost without exception, thanked me, informed me that they liked the band, and remarked that they did not understand why they wouldn't have already been familiar with this music. But it should also be underscored that the band was by no means unsuccessful. They had several charting albums in the U.S., a monster hit single in the U.K., sold out concerts at Carnegie Hall, and a lengthy career as a touring act that continues to this day. It is only when they are compared to the likes of Yes, Genesis, and Jethro Tull—a very tough standard—that they might appear unsuccessful.
As per the title of the book series you explore track by track of each album starting from 1969 including a coda of live and solo releases. Bring up Live At Carnegie Hall in passing conversation and fans will generally get very excited and praise it for all its worth outside their classic studio albums. Rightly so, you've devoted a page and a half covering this album and going into great detail. An odd question surrounding this revelation, but do you feel much more could be written about these three concerts at all? Possibly even a book covering the concerts and the making of these albums? Is that something you might have entertained or could?
I'm sure that would make for a very interesting book. I can even think of a publisher that might be interested in such a topic. "Bloomsbury," a British publisher, has a series called "33 1/3," with over 150 titles, where each volume is devoted to a single album. It seems to me that Live at Carnegie Hall would be a good fit there. It's not something I would want to take on right away, as I have some other projects lined up, but I'll keep it in mind as a possibility for the future. Thanks for the suggestion!
So with your Renaissance book out in the market, what next for you? Are you considering another Prog related work at all to write about?
I'm a philosophy professor, and five of my seven books have been in my field (the exception, apart from the Renaissance book, is Zinnophobia, a book on the radical American historian, Howard Zinn). The book I'm working on now is a philosophical book, on ethical theory. But, although I have no specific plan in this direction, I would like to write another book or two on music at some point in the future.
Thanks again, David. Renaissance On Track is a book title for all fans of Progressive Rock for a band much loved and listened to still.
Links to various online stores to purchase David's books
BOOK DEPOSITORY https://www.bookdepository.com/Renaissance-Every-Album-Every-Song-On-Track-David-Detmer/9781789520620
AMAZON https://www.amazon.com/Renaissance-every-album-song-Track/dp/1789520622
BURNING SHED https://burningshed.com/david-detmer_renaissance-on-track_book
Other SonicBond Publishing titles https://www.sonicbondpublishing.co.uk/gallery